HTML5 Menu Sample
Overview
CSS3 is changing how we build websites. Even though many of us are still reluctant to start using CSS3 due to the lack of support in some browsers, there are those out there that are moving forward and doing some amazing stuff with its cool new features. No longer will we have to rely on so much JavaScript and images to create nice looking website elements such as buttons and menu navigations.
You can build a cool rounded navigation menu, with no images and no Javascript, and effectively make use of the new CSS3 properties border-radius and animation. This menu works perfectly well with Firefox, Opera, Chrome and Safari. The dropdown also works on non-CSS3 compitable browsers such as IE7+, but the rounded corners and shadow will not be rendered. CSS3 transitions could one day replace all the fancy jQuery animation tricks people use.
How to use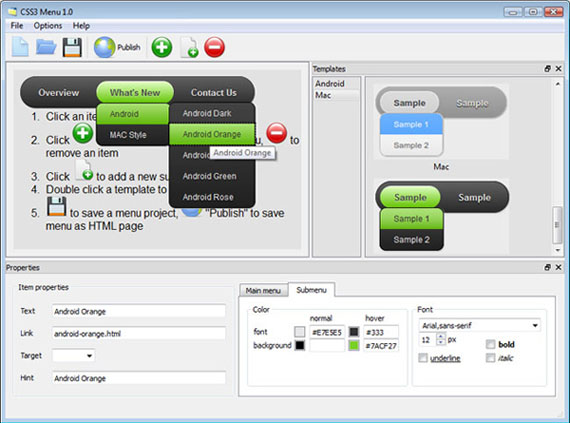 1) Open HTML5 Menu software and click "Add item"

and "Add submenu"

buttons situated on the HTML5 Menu Toolbar to create your menu. You can also use "Delete item"

to delete some buttons.
2) Use ready to use Templates. To do it just select theme you like in the "Templates" list. Double-click the theme you like to apply it.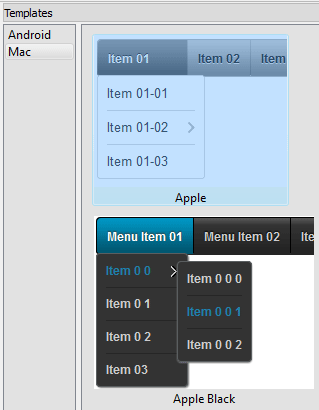 3) Adjust appearance of the menu.
3.1. Select item by clicking it and change button appearance for normal and hover states and set buttons link properties and link target attributes on the "Main menu" tab.
3.2. Select submenu's item by clicking it and change submenu's appearance for normal and hover states and set submenu's item link properties and link target attributes on the "Submenu" tab.

4) Save your menu.
4.1. Save your project file. To save project just click "Save"
button on the Toolbar or select "Save" or "Save As…" in the Main menu.
4.2. Publish your menu in the HTML format. To do it click "Publish"
button on the Toolbar.
free css menu drop bars Html5 Left Menu
Free Download
CSS3Menu Free Trial can be used for free for a period of 30 days.

If you would like to continue using this product after the trial period, you should purchase a Commercial Edition. CSS3Menu Commercial Edition additionally provides an option to create multicolumn menus and includes extended sets of menu templates and icons. After you complete the payment via the secure form, you will receive a license key instantly by email that turns the CSS3Menu Free Trial into a Commercial one. You can select the most suitable payment method: credit card, bank transfer, check, PayPal etc.
Support
For troubleshooting, feature requests, and general help, contact Customer Support at

. Make sure to include details on your browser, operating system, HTML5 Menu version, link to your page.
css js plot overlay menu
Templates
Gradient Grey

Point Aquamarine

Mulicolumn Blue Menu
Screenshot
Features
SEO friendly

Search engines and text-only browsers friendly.

GUI interface

Visual design user interface allows you to create your menus without the need for complex hand coding.
Use the preview window to view your menu design while you are developing and customizing.

45 degree menu bar html css
Contact us
For troubleshooting, feature requests and general help contact Customer Support at . Make sure to include details on your browser, operating system, jQuery Carousel version and a link (or relevant code). css javascript show hide menu print
Feedback
* Let me start just congratulating you, good job, really. I am trying out the free version before I buy it. It works great.

* I have downloaded your CSS3Menu tool and like what I've seen so far. It's so much simpler and cleaner than other attempts, definitely something I would use in my design work. So far I love it

* I'd like to express my gratitude to your efforts on creating such a nice piece of program and best of all it's free! Keep out the good work and I hope to see new features in the near coming future to rate you 5 star!
Awards














Html5 Left Menu Blogs
Tweet Tweet!
He helps imprisoned mentally ill: Bita Honarvar [email protected] Bill Kissel (left), new president of NAMI (Nat... http://bit.ly/mAQyIq
RT : ur creepppingg apparently! haha :) follow meee i feel left out :/ neversaynever right?
are you ever gonna tweet me..it's been like forver since you did..i feel so left out.. :( lol
Turning Left to the Ladies: http://amzn.to/jvgR3K
So wish at beach! But broke my toe & am in a boot. Boys left #StarWars #Monopoly money on stairs. #AdjustingPlans
Wonder whats for dinner today.. hmm hopefully cornbread is on the menu.!
RT : Ion stress ova thngz I cnt control.... I jus liv each daii lik its my last... Ride wit me or get left....
My older is a real pussy I know his ass left with his ppl to go to smudge later
he better tell ME that. RT : My left hand said come see him today .
You can't touch me now, there's no feeling left
Get your ass left.
put money on it my grandma will be callin' in 30 minutes to see if I've left smhhh lol
RT : I'm such a nomad idk how I'm ever gonna find a boo! I like to switch it up every few yrs. Get right or get left.
RT : "There's nothing left to try,Though it's gonna hurt us both, There's no other way than to say goodbye"
closingarguments Anything else you have left to say leave me a voicemail thanks!!
Just waiting for the bus by myself coz every1 left w/o me
One day left to pick out your 4th of July outfit! We have lots of red, white and BLUES! Stop in today and your... http://fb.me/18q3htCsk
Nooo 20% of battery left and i didnt even leave the house D:
Accident on New Jersey Turnpike southbound North of Interchange 8 - NJ 33 (East Windsor Twp) left lane blocked
RT : Some Things Are Better Left Unsaid.
RT : Great show! Only 1 left!!! Can't believe how much fun I've had!
fatpeoplenightmares Nee pies left.
ahh yes, but it does! What are you taking? How much do you have left! I'm happy to be done with it after 6 years! lol...
I really hate working with the HTML5 offline application cache. It might just be the hardest thing to work with and debug ever!
You're the who want me to stay, and you're the one who left me. Then you begging on me. And now... It's kinda funny. Hahaha
RT : If you had sex with Alex Gaskarth, wouldn't you just have to position yourself to the left if his curvy blue penis...
My room is nothing how I left it WTF
"To add a nickname: Click the Messenger menu and select My Contact Details" Where the fuck is it the button? >.<
My mom left nd she's goin to a house party tonite, free crib all day!
it is..the left side of my neck is even swollen.
Just left Visible Changes.
haha. Met a couple cuties! I said 5 numbers left with a few more haha.
: you were sleeping when i left so i kissed your forehead :) iloveyou:)
happy 4th of July? oh wait there's still 12 hours left until 4th of July for those who live in the states XD
with Mizzle but I left her at the junction... Coded!!!
fatpeoplenightmares - when there's no food left in the fridge.
neversaynever em a die heart fan of urx but u never follow me!still hope that you'll follow <3 <3 i felt em left out
and i left my glasses.
fatpeoplenightmares the dollar menu being removed
Wondering how Álvarez would fit in; I came to see him as a player player lined up in case Nasri left - Due to wide play and final ball skill
RT : Oh eww i left my location on and im in langley park. Ctfu
left hip, right hip, put your back into it
NEVER GONNA MISS WHAT I LEFT BEHIND, IF I GOT THE CHANCE TO DO IT AGAIN I WOULDN'T CHANGE IT
its about who stayed and never left aswell
Bitch Yu Left Me Like iWas Supposed Ta Jus Cry n Coupe Wen iWas At Another Bitch House An Hour Later dedicatedtomyex
lol get me somethin , since you got the whole menu
Today wld b easier da...if u hadnt fucking left me
disproves the theory that bacon goes w everything, yeah? Next on the gross-out menu--deep fried kool-aid...
I was engaged to music June 12th 1990...we got married October 8th 1990...the only thing that never left me...#MusicIsMyLife
just left mommy's job. w/ the best daddy ever :)
I must be tired, I almost left with out water bottle... She never leaves my side.
RT : A civil discussion between Left and Right about NPR. Reposting now that my blog platform is working again. http://bit.ly/lx4XHa
I wish learning to be left-handed would be as easy as a left-hander learning to be right-handed. frustratedlefthander
I have a few bits of Hotel Chocolat choc left? *offers*
naw fuck that this nigga look like he JUST gat out lmao and aint nobody here to back me up if we fade lol cuz teddy left lol
bruh u left me outside throwing up smh
My mommy don't love me....lol she left a note -_-
RT : Just a few more hours left to follow and RT to win a years free #ToowayUK broadband and an iPad2. Tell us, Why would YOU like to win?
I was sick for a few days so it entertained me.I think she is guilty but accidentally chloroformed her then left her in woods
McDonalds dollar menu increases by some cents. fatpeoplenightmares
The kids have gone back outside to play and I'm left watching chittychittybangbang on my own. I don't care though, it's a cracking film.
Mommy read me a menu of everything she cooked & everything is swine...im confused none the less on the way ta greenwood!
ah, Lonnie Chisenhall 1st error. He boots routine play, ball scoots off his glove into left field. That's ok Lonnie Chiz Whiz kid! #Indians
Eating, jus left the water park, finna go rafting. : )
bc idk he a dick & I left a message they ain't pick up
After the cop left, Kanji told me about how often this happens all the time and how he causes trouble for me and his mom.
RT : Vinny's 'Jersey Shore' Exit -- SEE THE VIDEO http://bit.ly/kx6iEY
Hey guys! I just left Allsaints. If you know of any positions within the industry in NYC let me know.
I shouldn't have left Arsenal,i will like to return if the manager wants me ...Quotes by players who leave without Wenger's blessings
so they left us home alone : /
RT : Dear Math, please stop asking us to find your x. She left you for a reason. you're annoying. Sincerely, students everywhere
Seriously... They just set up a pack'n'play and left the baby in there and now they're both laying out parentsoftheyear
I can't believe that Miguel Tejada was left off the ASG roster. What a snub.
and , you practically ate the whole box of Mike and Ikes ; she had like 7 left .
Dear Math, please stop asking us to find your x. She left you for a reason. you're annoying. Sincerely, students everywhere
Screw The Diner for brunch. Rumba has a delicious & creative brunch menu, great coffee & is far less crowded. Background music is asi-asi.
#JesusTakeTheWheel RT : Just left church with it was great!!
That 3rd goal was gorgeous Marta. Left foot was a killa
Just went to Starbucks, go to pay for my drink and look like an idiot with no card or ID..left them in 's wallet last night lol
My entire body hurts #KennyChesney got the best of me. Definitely left my boogieshoes at Heinz field
just left the homeless gallery in D light Studio some amazing photographers
You'll always have to settle for less because you left the best. #Simple
pimms in the fridge ,sheet going on pit only hay left to bale :-) lovefarming agrichatuk
He left the boat to smoke & got lost LMAO.
step to the left step to the right , spin around and bring dwn tonight , bring it on up move in close , let me see yu & yur partner stroke .
Just left my dads job..
i dont understand how people eat mcdonalds breakfasts :S the only thing on the menu that tastes good is the hot cakes..
"on your left!"
Updated Menu/Pricing as of July 1st, 2011 http://fb.me/15AvhKJAE
Piranha style feasting of St. Mark kids on the left over Lord's supper, this madness was put down shortly... http://t.co/ywBj2Dy
a looks like a tiny bomb went off in my room and left all my clothes strewn everywhere packing
RT : Ronaldo admits he would have joined Manchester City had Mourinho left Real Madrid this summer: http://on-msn.com/liMkJZ
My left knee and left big toe were definitely having words with me last night and this morning. Getting better tho
excited about moving at the end of the month. i got help coming from left and right in my fam. love
RT : If you love someone, tell them.. cause hearts are often broken by words left unspoken. theEpicDiary
3 an half hrs left to go -___-
RT : Congrats to but for Mike Adams to be left off the NL All-Star team is a jopke.
just remember.. you have 11 hrs left k?
Why try and explain the All-Star Voting fellas?Same crap every year.We should all be used to it.Somebody will always be left out.
Only have one bottle maybe two left to "gift" for today. The rest is for tomorrow.