HTML5 Menu Sample
Overview
CSS3 is changing how we build websites. Even though many of us are still reluctant to start using CSS3 due to the lack of support in some browsers, there are those out there that are moving forward and doing some amazing stuff with its cool new features. No longer will we have to rely on so much JavaScript and images to create nice looking website elements such as buttons and menu navigations.
You can build a cool rounded navigation menu, with no images and no Javascript, and effectively make use of the new CSS3 properties border-radius and animation. This menu works perfectly well with Firefox, Opera, Chrome and Safari. The dropdown also works on non-CSS3 compitable browsers such as IE7+, but the rounded corners and shadow will not be rendered. CSS3 transitions could one day replace all the fancy jQuery animation tricks people use.
How to use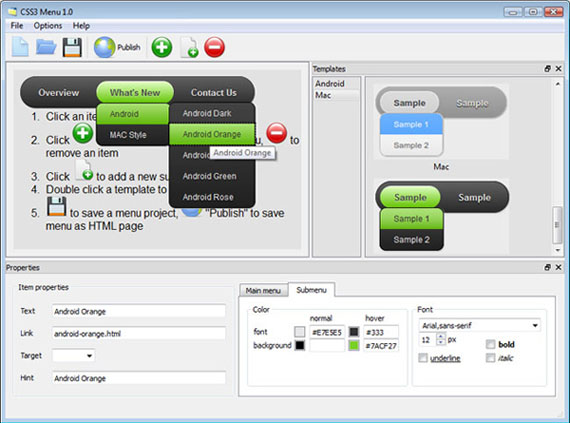 1) Open HTML5 Menu software and click "Add item"

and "Add submenu"

buttons situated on the HTML5 Menu Toolbar to create your menu. You can also use "Delete item"

to delete some buttons.
2) Use ready to use Templates. To do it just select theme you like in the "Templates" list. Double-click the theme you like to apply it.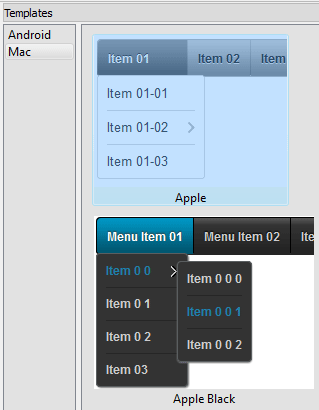 3) Adjust appearance of the menu.
3.1. Select item by clicking it and change button appearance for normal and hover states and set buttons link properties and link target attributes on the "Main menu" tab.
3.2. Select submenu's item by clicking it and change submenu's appearance for normal and hover states and set submenu's item link properties and link target attributes on the "Submenu" tab.

4) Save your menu.
4.1. Save your project file. To save project just click "Save"
button on the Toolbar or select "Save" or "Save As…" in the Main menu.
4.2. Publish your menu in the HTML format. To do it click "Publish"
button on the Toolbar.
simple css dropdown vertical menu Cool Html5 Menu Template
Free Download
CSS3Menu Free Trial can be used for free for a period of 30 days.

If you would like to continue using this product after the trial period, you should purchase a Commercial Edition. CSS3Menu Commercial Edition additionally provides an option to create multicolumn menus and includes extended sets of menu templates and icons. After you complete the payment via the secure form, you will receive a license key instantly by email that turns the CSS3Menu Free Trial into a Commercial one. You can select the most suitable payment method: credit card, bank transfer, check, PayPal etc.
Support
For troubleshooting, feature requests, and general help, contact Customer Support at

. Make sure to include details on your browser, operating system, HTML5 Menu version, link to your page.
how to modify style menu css joomla
Templates
Modern Dark

Gradient Grey

Simple Blue
Screenshot
Features
Cool CSS3 properties

Multi-level dropdown menu is created using border-radius, box-shadow, and text-shadow.
Opacity, backround and font colors, linear and radial gradients are also supported.

GUI interface

Visual design user interface allows you to create your menus without the need for complex hand coding.
Use the preview window to view your menu design while you are developing and customizing.

css menu submenu taringa
Contact us
For troubleshooting, feature requests and general help contact Customer Support at . Make sure to include details on your browser, operating system, jQuery Carousel version and a link (or relevant code). css play menu tutorial
Feedback
* Your ROCK! Your totaly great, I downloaded the css Generator and made only a test with it. GREAT !!!

* Another programmes have incredible functionality but no fantastic interface like your product!

* I first must say that after a few days of lost time trying to figure out some other ways to do this stuff, landing on your website to find and use your great little utility for css3 menus was just wonderful! You have made a complicated task look quite easy... lots of work behind your took I'm sure.
Awards














Cool Html5 Menu Template Blogs
Tweet Tweet!
RT : http://youtu.be/TV0ZM6X1Ky0 Cool Video seemeseetrouble
Cool they signed Talbot, but seriously? What the hell kind of team are they creating?
Cool cool.
myyyy nigga ..lol cool
movies yea dinner got no date I'm cool
cool :) im from germany :) how old are you?
Different chefs' takes on the perfect July 4th menu plus favorite recipes from archives | grilling bbq... http://fb.me/171b4Ysmx
Can't stand stubborn ppl.Ur really gonna act childish over something you don't know anything about that I introduced you to?Okay,that's cool
i should get them jays , but im cool , a car more important right now
it's cool - maybe...:)
lol cool
RT : That nigga Cheese from Brooks look like Chuck Inglish from The Cool Kids
RT : "@slimgudee: S/o to they were mad cool. Just know i want a rematch on the unfinshed game lastnight lol" card playin niggas
that's cool I guess lol
RT : today i randonly got a lot of #FF 's , it was cool lol
Pretty cool to see in Nashville! RT : The U2 stage. http://instagr.am/p/GvW4G/
you could do some kind of dragon sketch ... like wrapping around it in some way. that would be pretty cool
oh ok cool,where u from anyway?
it's really cool when your account gets hacked and they post lame crap about unemployed moms working from home for $10k scam
that's pretty slick Warwick! I hope you played it cool like it was what you meant to do!
I like bowties, bowties are cool
That actually sounds like such a cool word. Deuce.
lol Cool thx.. i'll text you
I'm cool with materialism. I like nice things! I just don't let it define me and how I relate to the world/ people.
..eyed peas" "how is that is anyway cool man?"
nice article on by on cool new daily deal service http://t.co/D5IBVsb congrats !
RT : Who said it was cool to date your bff or cousin ex ? That shit ain't cute
Lmao . I'd kill you for some food , so it's cool . . RT i would kill brandy for those....
Follow back PleasE? Your twitter is very cOOL (:
are you the developer on myvirtualgf? Looks cool!
umm immigrants don't say cool beams #FOH 
RT : I know. Which is exactly why I followed cause you tweet me from time to time and you seem cool.
How cool.
I dnt like all dis hot shit anyways ... I like the weather between 75-80 ... dats cool to me
i was like Charlotte ahhh i follow her your too cool man dont forget your passport ;) x
so weird to be hearing and chatting :) this is cool
cool!!! thanks Paul! :)
RT : Water and ice are best friends with cool and chilled «« Professor Jude
Yeah, he's pretty cool isn't he and he's got great judgement when selecting a team! Brinsworth are lucky to have you all.
it's cool
its so cool :o
ok, cool:D maybe you can go one time with your parents!
Oh and fuck that bitch you with now.. she already fucked half your friends. So cool
RT : Your profile picture is a car...cool, I didn't know you were a transformer.
yeah its cool we practice a few times a week n we r always guaranteed a big audience including God lol.gr8 way 2 praise Him
RT : Other people may not have high expectations of me and I am cool with that but I have high expectations for myself! That's important 2 me! :)
RT : A cool picture from Saturn, and I lie to you. http://is.gd/zOzvDI
Just saw "hall pass"..didn't like it a lot though/: it had a happy ending so that's cool:p
Happy #FourthOfJuly everyone! Stay cool and have a fantastic long weekend!
Check out our Burger Month Menu!! #WELOVEBURGERS http://ow.ly/i/dKJs
RT : thanks fam but still Trying to do a Lot More!!! New Video "I'm Cool" dropping soon!
oke is cool
Eyyy! Thanx for posting it and yes! seemeseetrouble RT : http://youtu.be/TV0ZM6X1Ky0 Cool Video seemeseetrouble
wowo ,, cool ,, is he muslim ?
"You what salsa? There's fucking tomato and cucumber over there, DIP" LOL #Adrian, cool guy
Really mad at . He's just too cool for people
could've spent the morning tanning in the blazing sun...now its cloudy af....cool
yep. i really really hope he's gonna marry one of us. it'll be cool. he'll always be down to earth. :)
:-) RT Dats cool u need to chill jare my sister ..RT : Lol, how i for do na.. Exams over, http://tl.gd/bfm0o2
:( oh okay I get it. U have none in general, in any language. *sad face* that's cool. I understand.
cool thanks!
RT : For fans of THE HUNGER GAMES *and* HARRY POTTER, #FF ... all will be revealed soon! (Trust me, it's very cool!)
Here's the drink menu for The Gin Joint in Charleston. I hear they have food too, but who cares? :-) http://ow.ly/5v2jd
I love how G RR Martin likes to make you think something cool is going to happen and does something better
I think Zendaya is a good role model :) She belongs to disney. She's pretty cool ;)
RT : RT : China spends $0.59 to make them foams you just paid $250 for. Now you're forced to eat off the $1 menu. But you fly!<LOL
Shit cool!
That's cool. I'll drink a Meph or two for ya! :)
damn that's cool!! I want a black shirt with pink writing!!! Damn you employment!
#FF cool self (:
RT : "@ShawnB_Fooling: lol that shit ugly and u lose" that's cool homie. While I keep getting compliments, you keep being basic.
RT : RT : China spends $0.59 to make them foams you just paid $250 for. Now you're forced to eat off the $1 menu. But you fly!<LOL
Home Alone, cooking, laundry, listening to Wizzy's album...Cool №ni
No need to argue http://tinyurl.com/3wq2k5p about who to #FF follow these cool ppl
alright cool.. im gonna try to make it out there for it
Github pages are quite cool, but I need to synchronize gh-pages after every commit. How can I sync this branch with master?
ѕυяє ωσυℓ∂ вє jυѕтѕαуιи RT Head would be some pretty cool shit right now.
Ways to end a convo: Lol Hahaha Cool Yea
Cool photo on train!
alright cool
Getting paid to sit around is not as cool as you would think
cathy: comin out to *insert names here*? me: nope. cathy: okays. me: youre missing out though cause im wearing cologne and its sexy. SO COOL
the fox is a great CFI and cool person. Highly recommend.
I wanna be a spy. You'll never know if I'm listening to you secretly or if I'm just minding my own business. Yea that'll be pretty cool.
Cool.I have born in May 1997 :D so you must be born in 2000? :D
Yea i'ma a Caligirl "@Wontstop4no1: Lol.. i can't wait to visit there again.. but cool.. i didnt know lol"
jay said out name was cool on twitcam;-) (@heyitsell_TW live on http://twitcam.com/5hwzc)
Random letter in the mail? Cool.
- she my girl , so her mom like a fan to me ( she cool ! ) .
RT : Lupe Fiasco is a fucking retard. Obama is a terrorist but Lil B is cool tho....aite ok dude
ok cool. Thanks.
RT : Riding home feeling cool in my Rihanna shirt :P http://lockerz.com/s/115775522
eee, the kids of today eh? brighter, faster, more tolerant, self assured, happier and better educated. Cool.
ok cool :D when do I go??
So cool! Free music downloads at L.A. city, county libraries http://t.co/LYK3Y9t via
Lol. Cool beans RT RT : life is very interesting lol...how are you< lol great!
its for cool people only...sorry babes!
"the fake taking over like being real aint cool no more"
Just checked the fig tree to gather figs for an appetizer tonight, & birds had eaten off every last one. Not cool, birds!!!
Ok cool an nothin that I kno of right now..